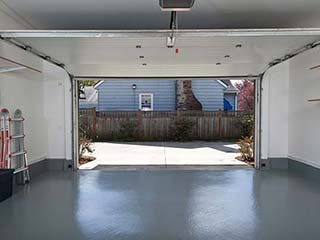 Our company provides not only repair solutions to common and unusual problems but also regular maintenance appointments and even garage door and opener installation services. We rely on our experience and expert knowledge to find the best way to help our customers in any kind of situation.
Professional Technicians At Your Service
Our technicians are highly qualified, and well-familiar even with the most advanced technologies. With carefully selected high-quality spare parts and modern tools at our disposal, we can restore your automatic door to excellent operation in no time. We can offer you the right solution for any issue. You can count on us to fix both decade-old and brand new garage door openers of any brand with the same kind of high-quality precision. We can safely replace both extension and torsion springs, and ensure that your garage door stays balanced and is able to open and close smoothly and silently.
Upkeep Is Crucial
You should never underestimate the importance of maintenance when it comes to your garage door. Not only will regular servicing help to preserve the door's look, strength, and performance, it will also allow you to avoid all sorts of problems and malfunctions. If you are too busy to handle it yourself, you can leave the work to our team. We'll be more than happy to ensure the optimal safety, security, and performance of your door. No matter what kind of service you may need, we're here to provide it.
Safe Broken Spring Replacement
If your garage door doesn't move even though the opener seems to be running without any issues, you probably have a broken spring. You should not try to replace this component on your own, as this process could be extremely dangerous. Just to be safe, you should avoid touching your door until our technicians arrive. Remember that safety comes first! Our specialty covers all types of garage door springs, including torsion and extension units.
Unexpected Cable Troubles
A snapped cable will most likely leave your door stuck, which puts extra strain on the second cable and the springs. Count on us to quickly send our experts over to replace the broken cable with a new one of the same length and design. If you notice any trouble signs with these components, like fraying or cuts, you should have our team replace them before they end up snapping.
Professional Motor Repair
If your opener's motor sounds exactly like your coffee grinder, this is not a good sign. You can rely on our team to come to quickly come to the rescue and fix the unit on the spot. Whether there is a need for replacing the main gear or for more complex repairs, we'll do whatever it takes to restore the unit's smooth performance. If your opener is beyond repair, or simply too old to be worth the effort, we can offer you modern models with advanced technological features that will make your daily routine a lot safer and more convenient.
Professional Opener Replacement
There are a lot of different brands that offer unique safety and security features. Our company works with the best manufacturers in the industry, and we can provide you with opener models from big names like LiftMaster, Genie, and Chamberlain, to name a few. Not only will we gladly carry out the opener installation for you, we'll also be happy to help you choose the right model for your garage. Will make sure you consider every worthwhile addition, including innovative features like remote controls with rolling code technology, a battery backup system, internet connectivity and remote operation via a smartphone app.
We're Always At Your Service
Call Garage Door Repair North Hollywood today for any problem you might be having with your automatic system or any of its parts. As one of the leading service companies in California, we make customer safety and satisfaction our highest priorities, so you'll never go wrong choosing our team.
Get In Touch With Us Today!

High Quality Products

Weekend Appointments

Over Ten Years Of Experience

Satisfaction Guaranteed