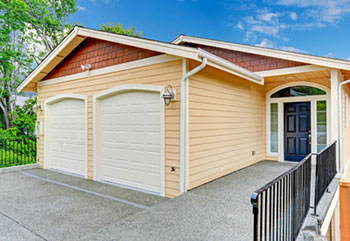 Buying a new garage door is something that requires careful decision making. There are many options to choose from and not every option can suit your specific needs. It is important to look at the different factors that make a door the right one for you, such as its insulation level, it's weight and it's durability, to name a few things.
Dimensions and Space Limitation
This is one of the most important things you need to consider. You have to know the dimensions of your garage and whether or not the door you are currently considering to get will fit in it. Of course, you can always get a custom-made garage door that will be specifically designed for your space availability. Otherwise, the type of door you get matters a lot more. Certain types can be more suitable for small spaces. A roll up garage door, for example, will not require a wide space in front of the garage but may require more headroom space than other types.
Insulation and Weather Proofing
Local weather has to be taken into account when choosing a new garage door. You could get a door that comes with existing weatherstripping materials that will help keep rain, wind, and snow at bay, or have those weatherstrips added afterwards. If you reside somewhere where the winter months are extremely cold or where summer sees excessively high temperatures, you'll have to choose a garage door that is well-insulated. It will have to be made with a material that reduces heat transfer as much as possible. If you choose a steel or aluminum garage door, you will need to have it insulated further. Wooden panels, on the other hand, have natural insulating qualities which the material they're made of offers. Uninsulated doors tend to adversely affect the indoor air quality inside your garage. This means more strain on your HVAC system, which will result in additional costs, and potentially more wear and tear.
The Overall Cost
Of course, the cost is an important factor that also needs to be considered. You have to look for a door that will be cost-efficient—one that gives more advantages in relation to the price tag. However, quality should not be sacrificed. Quality models may cost a little more, but their reliability will make them a worthwhile investment in the long run. It helps to ask for recommendations from people who have extensive knowledge about the subject. Our experts, for example, will be happy to consult you and answer any question you may have.