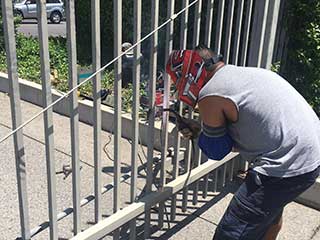 An automatic gate is a complicated machine. There are many electro-mechanical parts that need to be perfectly synchronized, so it's no surprise that over years of use these systems develop some issues. If you're in need of an emergency repair or have an ongoing problem that needs solving, our technicians are ready to help, whether you've got a sliding, rolling or swing gate.
Fixing A Malfunctioning Opener
Perhaps the most important part of your automatic gate system is the opener. This is the motor that's responsible for opening and closing the gate each time you go through, much like in a garage door system. Since this unit is a combination of electrical and mechanical parts it can be susceptible to a variety of issues. If the opener is making strange sounds, the motor gear could have worn out and need to be replaced. If the gate keeps reversing for no obvious reason, we'll check the safety sensors to ensure they're properly aligned, and realign them if they aren't.
Repairing Broken And Damaged Parts
Your gate is built to last, and it's made of tough materials that can take a lot of wear and tear. However, even hardened metal components such as the tracks and hinges can sometimes be damaged. This can be due to corrosion and rust, an accidental collision, or even cold temperatures. Hinges can develop cracks and flaws, which may need to be welded to return them to proper working condition. In addition, dents to a gate's track can prevent it from operating smoothly, requiring expert attention to resolve. Our technicians are trained and equipped to handle both track and hinge welding repairs.
Contact Our Team
Our technicians are ready and waiting to fix any problem you're having, from a non-responsive opener to a failed intercom system. We offer both commercial and residential services, so don't delay; call Garage Door Repair North Hollywood today to arrange an appointment.
Give our team a call if you need help with:

Driveway Gate Troubleshooting

Gate Exit Sensor Installation

Sliding Gate Chain Replacement

Program Doorking Intercom